Trew 2 the Game #15: Preseason Possibilities
Published: October 8, 2013
The Pelicans have played 96 minutes of basketball this preseason on division rival's turf. Half in Houston, half in Dallas. This Wednesday Crescent City Basketball will take on the Magic in Jacksonville (chances Ryan Anderson will outscore the Jaguars' next score – 2:1). Then it's the Hawks in Biloxi, the Thunder in Tulsa and the Wizards in Kentucky. The Pels play Miami and Orlando in the week leading up to the big red, gold and navy premiere but it's the previous week's slate of games that should be the most exciting for basketball fans.
It's not often enough that neighboring cities get the call to host professional warm-up roundball. In 2012 the Hornets played Orlando in Mexico City but every other game was played in an NBA venue. 2011 was lockout-shortened and saw no outside-the-box choices for preseason. 2010 saw the Hornets play the Hawks in Johnson City, Tennessee at East Tennessee State but that was Johnson City, Tennessee. This year's preseason slate of games crushes the previous three. How much fun would a road trip to watch your favorite basketball team in a famous college arena be? How exciting must be it for NBA fans in Biloxi to get to see their favorite team in person? Is it because of the Arena renovations or is it because the schedule samurai got smart? It's more fun to think this is a trend so let's explore future preseason possibilities.
Lafayette
In 2009 the Pelicans Hornets held training camp here as well as an open to the public scrimmage. Lafayette is easily the second coolest city in the state – don't sleep on Lafayette! – if you want people buying your merchandise and taking road trips to the Arena you've got to give them something to hold on to. Why not host an annual preseason game in Cajun Country? That charming po-boy shop on campus is never going to hang a Crescent City Basketball flag in the restaurant if you don't show their town a little love. Also, the photo slideshow of Anthony Davis on an alligator tour is going to be a keeper.
Baton Rouge
If you leave at the right time (and have a radar detector) the state capital and New Orleans are only an hour apart. Imagine the good some sort of annual preseason event would do for Baton Rouge folks. Instead of just a game what if there was an open practice? Some sort of fan interactive event held on campus? What if every year we got a Kings vs. Pelicans matchup and Shaquille O'Neal could host some charity work? Pistol Pete! Bob Pettit! Is it possible to make preseason interesting? Yes, it is.
Shreveport
Okay, it's closer to Dallas. But Shreveport (home to Antawn Jamison and Stromile Swift!) is the third largest spot in Louisiana and the Pelicans flag should be planted there. Other than a Saints preseason game in 2006, Shreve-city (does that work?) has seen no professional sports action. An annual Mavericks/Pels matchup near the Texas border would contribute to turning the entire state of Louisiana into basketball fiends. Also, the film industry is on fire in Shreveport – actors and crews have to be looking for something else to do other than gamble their per diems away. Could a Pelicans game in Shreveport be the most star-studded event in all of preseason sports? I'd gamble on it.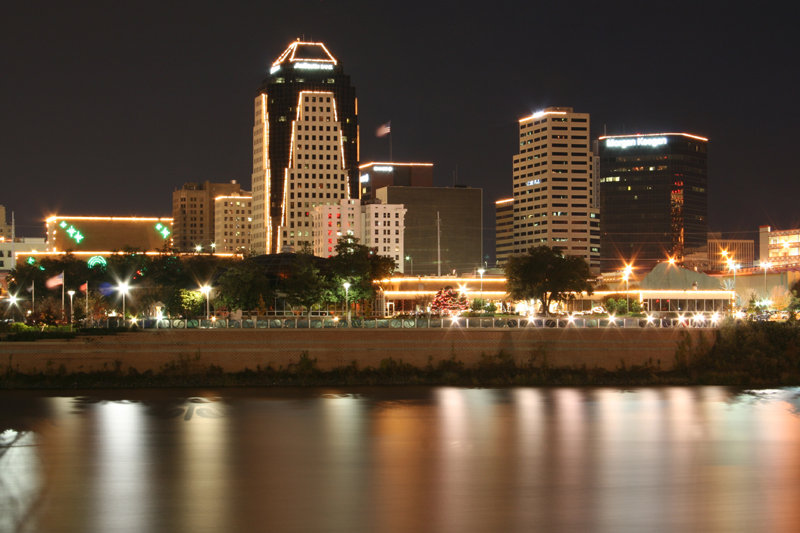 Jackson, MS
There's history here – the Mississippi state capital is the former Summer home of the New Orleans Saints. There's an arena here that can host nearly 7,000 for a basketball game. If that's not enough, Jackson is 24 miles closer to New Orleans than it is to Memphis. There are 24 seconds in a shot clock. That data alone suggests that Jackon-ites should be Pelicans fans, not Grizzlies fans. A very important factor: Jackson is less than 3 hours away from New Orleans and is the largest in the Magnolia state. A weekend in the Crescent City centered around an NBA game should be a thing that these people do. Let's make it easy for them by bringing the product their way. How many Pelicans watch parties do you think there will be in Jackson this season?
___________________________________
The formula should be two games in the home Arena (to test out whatever confetti/fireworks/lasers/actual Pelican wildness planned for the year), two games within a few hours of New Orleans (to boost awareness and capture fans), one "alumni" game (like Lexington, a candidate for best preseason game idea of all time) and one game on someone else's turf. With a little bit of love and creativity preseason basketball can become an event that fans look forward to, not only because it's a sign that the NBA is weeks from being official, but because it's a celebration of the sport we all love.
Chris Trew is a comedian living and working in New Orleans. He's part of the mega comedy event this November 12-18th called Hell Yes Fest. Trew 2 the Game appears every Tuesday on Bourbon Street Shots. Follow Trew 2 the Game on Twitter.