Trew 2 the Game #8: Crazy Eights
Published: August 20, 2013
If you like the column, here's some ways you can be a darling and help us out:
– click one of the sharing buttons to the left. Facebook likes, Google Plus shares and Tweets are sweet
– set a google calendar alert for every single Tuesday. Call it something like "Best Part of the week", that way you get in the regular groove of expecting the best part of your week to happen the day after your week starts.
_____________________
Crazy means different things to different people. J.R. Smith crazy would be attempting less than nineteen bombs a game. Ryan Bowen crazy would be not bagging his own groceries. In celebration of Trew 2 the Game #8, here's 8 crazy ideas. Leave yours in the comments!
P.S. The offseason is almost over, right?
Crazy Idea #1: Screw Your Rules, NBA, It's Mardi Gras
It would take a lot of people breaking a lot of rules but those rules are kind of silly and something people do awesome things. What if Tom Benson, Monty Williams, all of our players and most importantly, our equipment manager all got together and decided to trot out the purple green and gold during the Mardi Gras road trip? What's the worst that could happen? Fines? Fine. Let's stir up some controversy next March. Around the Horn would talk about it for a week and you know that Woody's chalkboard is gonna have something to say about it.
Crazy Idea #2: This Trade Machine trade of the Decade. Jrue Holiday would make a pretty sweet backup point guard.
Crazy Idea #3: Rip Your Sleeves Off
Oh, Eric Bledsoe. One time we thought you were included in the CP3 trade but turns out you weren't. Then our center piece in the trade, the other Eric, said his hollow blood-pumping muscle was in the US Airways training facility. Now you're in Phoenix and you're wearing a shirt that says "Suns" on it. Pelicans jerseys could be worse, New Orleans – they could have dang sleeves on them. If you feel like I feel rip a sleeve off whatever you're currently wearing and say "Yeah".
Crazy Idea #4: New Orleans Slam Poet Justin Lamb Performs "Pelicans" on Opening Night
Congrats to the New Orleans Slam Poetry team for winning Nationals. Again.
Crazy Idea #5: The Name of our Mascot Should be "Pistol"
Pistols are a touchy subject (ahem, Wizards), yes. But Pistol Pete is a legend. A local legend. The chances of that being enough to warrant a mascot sharing a name with a weapon are slim, but how cool would Pistol the Pelican be? I would settle for Pete as well.
Crazy Idea #6: Our Senior Dance Team Does Something Absolutely Ridiculous at the All-Star Game
They used to be called the Used to Bees and it looks like the working title for the Pelicans version is "Senior Dance Team." While that's incredibly tame at the moment, I'm suggesting they plan for the opposite this February. Foam party at the Superdome? Cage Match against the 610 Stompers? I'm open minded and the Senior Dance Team probably is as well. Leave your ideas in the comments and by the way, auditions are this weekend.
Crazy Idea #7: All Preseasons Look Something Like This
Preseason basketball should be exclusively held in neighboring towns to boost regional interest. Love the Biloxi game. Really love the Lexington game. Feeling bad for the Cajuns and Tigers to the west – those should be a given. Love that we have Miami as our lone preseason game in the Arena (season ticket holders nod on their way to Stubhub).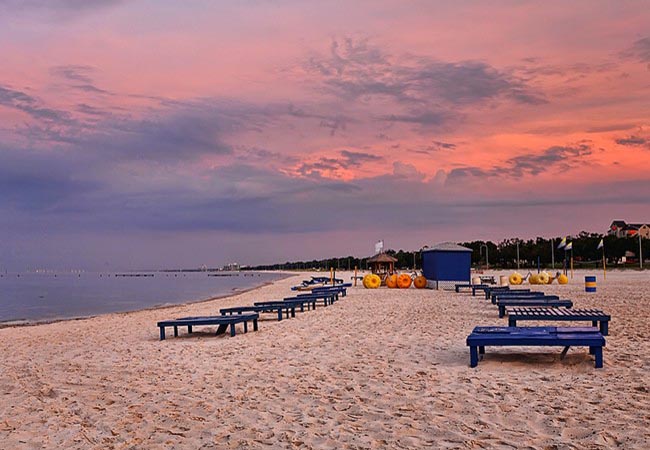 Crazy Idea #8: The NBA Should Ban ALL Bags
Giant shout-out to local comedians and TNM graduates Colleen Allerton and Lauren LaBorde. They made a video satirizing the NFL bag policy and it went crazy viral in just over 24 hours. You may have seen it featured on Yahoo or this morning on The Today Show.
Listen to them discuss the idea on the latest Trew 2 the Game podcast.
Chris Trew is a New Orleans based comedian and Pelicans fan. He writes this column every single Tuesday exclusively on Bourbon Street Shots. His podcast, also called Trew 2 the Game, is available on iTunes and itsneworleans.com. Follow him on Twitter here.