Game On: Hornets @ Nuggets
Published: January 9, 2012
The Hornets look for revenge as they travel to Denver to take on the Nuggets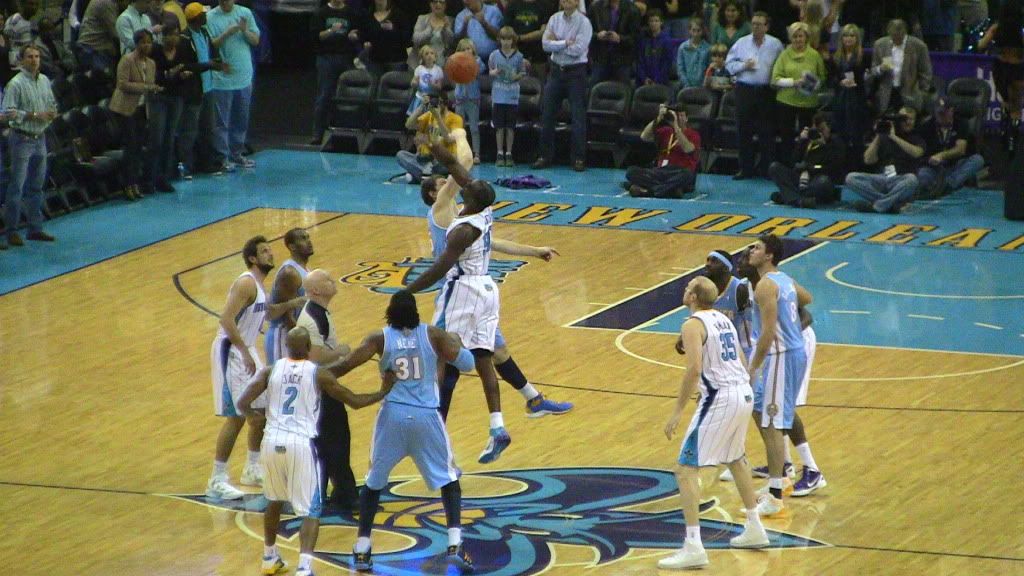 New Orleans and Denver match up for the second time in four days, as the Hornets look for some pay back after Friday's 96-88 loss. The game followed a somewhat familiar script, as the Hornets led for three quarters before totally falling apart in the fourth. For those first three quarters, the Hornets contained the blur that they call Ty Lawson, but he broke free in the final quarter, scoring six points and dishing out 5 assists in the final frame.
Danillo Galinari also had a nice game for Denver scoring a game high 23 points for the Nuggets, but quite frankly the Hornets lost this game in the paint, where they were outscored 56-38. Denver's guards got to the interior at will, and even the great Kosta Koufos went 4-4 in limited action. The scary part is that Denver had one of their worst games of the season that night, and the Hornets shot lights out- particularly in the first half.  And now the match-up shifts to Denver where the Nuggets are 4-0 and are outscoring their opponents by nearly 15 PPG. Just sayin'.
News and Notes:
– If you haven't gotten a chance to check out the Player Power Rankings by one of our new writers (Mason Ginsberg), do yourself a favor and check it out. A great piece that will be a regular series this year, as Mason will put out an updated one every Sunday.
– Vegas Zone: Hornets are 13 point underdogs in this game, and seeing how the Nuggets have played at home this year (and how the Hornets have played in general) I think this line is generous.
– Injury Updates: Eric Gordon, Trevor Ariza, and Xavier Henry are out for the Hornets. Jason Smith will also miss the game due to personal issues, leaving the Hornets with only 10 players as they face off with the Nuggets.
– Minnesota travels to Toronto tonight to take on another team that will likely be in the lottery- Canada's favorite son, the Toronto Raptors. Minnesota hasn't won a game in Toronto in eight years, but Michael Beasley is out again tonight, so the Wolves will likely cruise to victory in this one. Seriously, that guy needs to get healthy and Kevin Love needs to replace him on the bench or the Timberwolves pick will likely be between 12-16. Those of you who thought I was crazy by suggesting that we look to move the pick prior to the season beginning; Do you still think I am crazy now?
– This upcoming stretch of games for the Hornets is brutal. The Hornets have 13 games remaining in January (including tonight), and I expect them to be the underdog in every single one of those games. They will likely pull out a few, but don't be shocked to see the Hornets head into February somewhere around 4-15. What I am saying, is look for something else to give you happiness other than wins. Try to enjoy the development of guys like Aminu and Vasquez. Root for more minutes for Ayon or the return of Xavier Henry, etc. Enjoy the georgeous new banners by Darius Ejkiewicz here at Hornets247.com. Or just get stupid drunk while listening to good old Gil drop another pun.