So you thought I was kidding: Paul just wants to Dance
Published: August 6, 2010
In February 2009, I posted a mock interview with Chris Paul, addressing all the times he's tumbled to the floor, arms flailing, at the lightest of bumps. Here are the pertinent parts:
Ryan: It sure looked like you were in pain on the court – what's up with that?
Paul: Well, you know how it is. Just tryin' to keep pace. You got me?
Ryan: Uh . . . no?
Paul: Well, I'm just tryin to keep up with Bron and Kobe, ya know? Kobe's got that glamorous LA scene and everything, and his jersey is all popular and stuff. Bron's got all those commercials and that whole Global Icon thing going on. I'm just tryin to carve out my niche.
Ryan: By pretending your injury is worse than it is?
Paul: No man. Acting! I'm tryin' to be an actor. I mean, Ray Allen's got nothing on me . . . have you seen my smile? Everyone loves my smile, man.
Ryan: It's a nice smile, Chris.
Paul: Really? You're not just saying that, right?
Ryan: Really, Chris. It's nice.
Paul: That's good, my mom always complimented me on my smile and all, but it's good to get outside confirmation.
Ryan: No problem . . . so, uh, are you aiming for movies then or something? TV?
Paul: Naw. That's been done. I'm gonna hit Broadway.
Ryan: Broadway? Really?
Paul: Yeah – I was up there a week ago, hanging with Bron as he was looking for a cool place to move into, and I saw this play, Billy Elliot, ya know? It touched me man. This poor, struggling kid, everyone around him all dirt poor and stuff – and he just wants to dance. And no one, I mean no one understood him. He just wanted to dance, man. Just wanted to dance . . .
Ryan: Are you crying?
Paul: *sniffle* No! Shut up!
Ryan: Sorry.
Paul: Anyways, I wanna be the lead of that show. I got moves on the court, off the court, everywhere, you better believe I got them on the stage. You've never seen a guy who can dance like me. I'd be perfect.
Well, you know, ya'll thought I was kidding. But I wasn't.
Here's Paul dancing and then getting love from the ladies on the show So You Think you Can Dance.
Amazing, eh? Apparently, the show is calling him "Adechike Torbert", but really, who among us is going to buy that? Just look at that Grin! It's Chris Paul through and through. Oh, and have you ever heard a more made-up name than "Adechike"?
Wait, so you're still not convinced? Well here's "Adechike" doing the "assist point" to one of the Choreographers in the crowd, just like he does when he catches an outlet pass and finishes in transition. Straight off the basketball court, I tell you.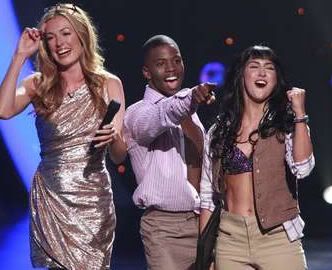 Still, there is one major concern here. Paul was supposed to be rehabbing, remember? Well here's Paul struggling with his knee. He's even pointing for a trainer to come help him to the bench. Is anyone else bothered by him dancing on that damn surgically repaired knee?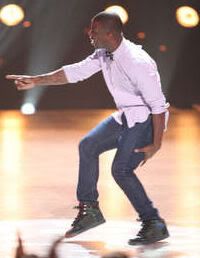 Sadly, "Adechike Torbert" was voted off the show tonight after reaching the final four, so you've probably already missed out on seeing him kill dance styles like Hip Hop, Contemporary, Jazz, Bollywood, and Ballroom. I do have good news though, if you act fast, you can still catch him on tour this fall, skipping two-a-days in training camp so he can pursue his one true passion: dance!
Still, despite the tour, Paul may be a little down tonight. So be sure to send CP a consoling tweet or two if you got time. I bet he'll think you're pretty cool for doing so.
(And yes, I watch So You Think You Can Dance. It's good. Shut up!)
(And yes, this is also a joke. I guess I better say that too.)